I recently completed a Traditional Korean Minhwa Painting course at the Daegu YMCA and was really impressed with the class and my result! I have been wanting to try my hand at painting for some time, so I jumped at the opportunity to take a FREE (except for supplies) class! This 8-week Minhwa (folk art) class took us from a blank piece of paper to a stunning dragon, rising out of the ocean and tearing through the clouds.
The Tracing
We started off with tracing—lots and lots of tracing. Nope, we didn't use a pen or pencil to trace…. we used ink and a thin paint brush. This part was quite difficult for me as I was just learning to paint and I had to practice calming myself down enough to even hold the brush steady! Though it was very challenging, I learned to breathe and relax. Just like my pottery classes in Ohio… I couldn't force it. I had to clear my head and be completely in the moment. The work quickly became therapeutic for me and I looked forward to my painting sessions. I even found myself painting at home on the weekends and using it to decompress from a long week at work.
The Color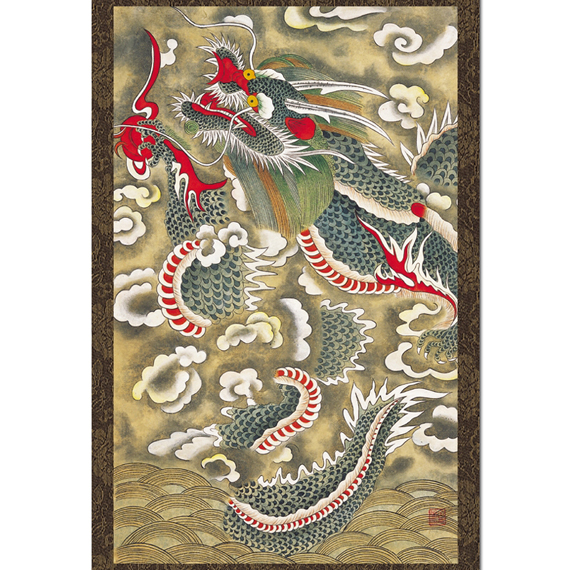 After the tracing was finished (many of us completed it as homework), we started with the color. This is, of course, where I began to deviate. As you can see on your right, the picture we were going off of was a blue dragon and many of the other colors were muted. I (on the other hand) really like bright, vivid colors. I asked my teacher if it was OK to deviate from the norm, and though she stressed that Korean dragons are only blue or yellow, she said I was free to do as I wish. Needless to say, my finished product looked nothing like the original haha.
I spent a few weeks finishing the color as I completed it bit-by-bit. After the color was finished, I worked on gradation and the clouds-both were just as difficult (if not more) than the tracing, but they were well-worth the struggle. You can see the progression below.
The Finished Product
I finally put down my paintbrush last night and am quite pleased with my Minhwa. Though it obviously nowhere near professional quality, I'm proud of what I accomplished over the past 8 weeks and am happy that I was able to make this painting my own. I can't wait to hang it up and be reminded of the rewards of hard work and persistence!
I hope to take another painting class at the YMCA, but will have to wait until next Spring for another class to be offered. What's On this Autumn? A Korean Bookbinding Class! Can't wait!